Dr Jeremy Cobbold
Consultant Hepatologist and Gastroenterologist
MA PhD FRCP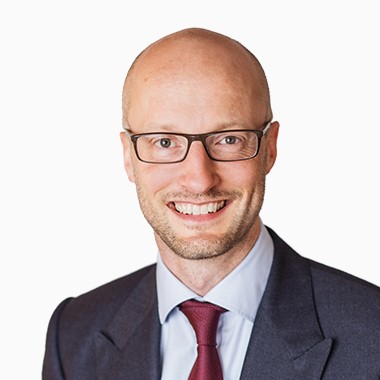 Dr Cobbold is a leading liver specialist based in Oxford. He is Consultant Hepatologist and Gastroenterologist at the John Radcliffe Hospital, Oxford University Hospitals NHS Trust, and Nuffield Health The Manor Hospital, Oxford.
Dr Cobbold qualified in Medicine from the University of Cambridge and University College London in 2001. He trained in Gastroenterology and Hepatology in London, including at the Royal Free Hospital and St Mary's Hospital, Paddington, before being appointed to a Consultant post in Oxford in 2014. Between 2005 and 2008, Dr Cobbold completed a PhD in imaging technologies for non-invasive assessments of liver diseases at Imperial College London, then as a Clinical Lecturer at Imperial, conducted research into treatment strategies in non-alcoholic fatty liver disease (NAFLD).
Dr Cobbold leads the Hepatology service at Oxford University Hospitals. He has clinical expertise in a broad range of conditions affecting the liver and gastrointestinal tract. Dr Cobbold runs an active clinical research team in the University of Oxford with a focus on management strategies in NAFLD (including clinical trials of new treatments), and the non-invasive assessment of liver disease. He has published more than 50 articles in peer-reviewed journals and contributed to a number of textbooks in the field. As Honorary Senior Clinical Lecturer at the University of Oxford, he teaches and lectures within the University, nationally and internationally. He is on the specialist register with the General Medical Council (GMC), a Fellow of the Royal College of Physicians and a member of the British Society for Gastroenterology (BSG), the European Association for the Study of the Liver (EASL) and the British Association for the Study of the Liver (BASL). He has accreditation/approval with all major health insurers.
A consultation with Dr Cobbold is thorough, holistic and empathetic. He takes an unhurried but efficient approach to make a full diagnosis and work with the patient to establish a comprehensive management plan. Dr Cobbold is a skilled endoscopist (upper GI endoscopy (OGD) and colonoscopy) and an expert in the use and interpretation of FibroScan. 
Selected recent publications:
1: Marjot T, Green CJ… Cobbold JF et al. Sodium-glucose cotransporter 2 inhibition does not reduce hepatic steatosis in overweight, insulin-resistant patients without type 2 diabetes. JGH Open. 2019 Nov 5;4(3):433-440.
2: Moolla A, de Boer J… Cobbold JF et al. Accurate non-invasive diagnosis and staging of non-alcoholic fatty liver disease using the urinary steroid metabolome. Aliment Pharmacol Ther. 2020 Jun;51(11):1188-1197.
3: Newsome PN, Sasso M… Cobbold JF et al. FibroScan-AST (FAST) score for the non- invasive identification of patients with non-alcoholic steatohepatitis with significant activity and fibrosis: a prospective derivation and global validation study. Lancet Gastroenterol Hepatol. 2020 Apr;5(4):362-373.
4: Moolla A, Motohashi K… Cobbold JF. A multidisciplinary approach to the management of NAFLD is associated with improvement in markers of liver and cardio-metabolic health. Frontline Gastroenterol. 2019 Oct;10(4):337-346.
5: Cheung V, Gupta T… Cobbold JF. Immunotherapy-related hepatitis: real-world experience from a tertiary centre. Frontline Gastroenterol. 2019 Oct;10(4):364-371.
6: Marjot T, Moolla A, Cobbold JF et al. Nonalcoholic Fatty Liver Disease in Adults: Current Concepts in Etiology, Outcomes, and Management. Endocr Rev. 2020 Jan 1;41(1):bnz009.
7: Levick C, Phillips-Hughes J… Cobbold JF et al. Non-invasive assessment of portal hypertension by multi-parametric magnetic resonance imaging of the spleen: A proof of concept study. PLoS One. 2019 Aug 20;14(8):e0221066.
8: Eddowes PJ, Sasso M…Cobbold JF et al. Accuracy of FibroScan Controlled Attenuation Parameter and Liver Stiffness Measurement in Assessing Steatosis and Fibrosis in Patients With Nonalcoholic Fatty Liver Disease. Gastroenterology. 2019 May;156(6):1717-1730.
9: Prabhu A, Chapman TP, Cobbold JF. A Rare Cause of Hepatitis. Gastroenterology. 2019 Jan;156(1):e8-e9.
10: Cobbold JF, Atkinson S, Marchesi JR et al. Rifaximin in non-alcoholic steatohepatitis: An open-label pilot study. Hepatol Res. 2018 Jan;48(1):69-77.