Dr Alissa Walsh
Consultant Gastroenterologist
DPhil FRACP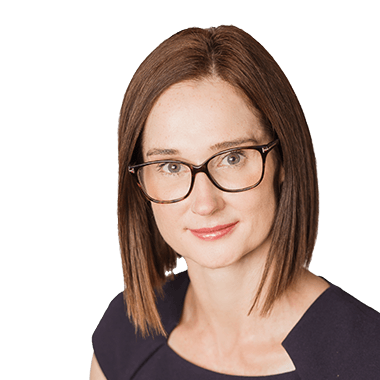 Dr Alissa Walsh (DPhil FRACP) is a Consultant Gastroenterologist at the Oxford University Hospitals NHS Trust and Nuffield Health, The Manor Hospital, Oxford. Dr Walsh has extensive international experience in clinical gastroenterology and endoscopy, including diagnostic and therapeutic gastroscopy and colonoscopy. She has received training with the National Bowel Cancer Screening team. Dr Walsh has a sub-specialty interest in inflammatory bowel disease (Crohn's disease and ulcerative colitis).
Dr Walsh completed her gastroenterology training in Australia and was awarded her consultancy from the Royal Australian College of Physicians in 2006. In 2007-2008 Alissa was a Clinical Fellow at the John Radcliffe Hospital. From 2008 Alissa was the Head of the Inflammatory Bowel Disease Unit at St Vincent's Hospital in Sydney. In 2018 Alissa completed a PhD at the University of Oxford, focusing on Inflammatory Bowel Disease. She has subsequently become part of the Consultant Gastroenterology team at the John Radcliffe Hospital. 
Dr Walsh is renowned for being a leader and is a compassionate doctor who delivers the best quality of care for her patients. Her clinical and research interests focus on patient-reported outcomes, remote monitoring for chronic disease, disease activity indices and faecal transplantation. Digital management and wearables to investigate the role of stress and abdominal symptoms is one of her current projects. Dr Walsh also has an interest in teaching and is an Associate Fellow at Green Templeton College, University of Oxford.
Dr Walsh is the cofounder and a current director of a medical charity, Crohn's colitis Cure.  She is also a member of the British Society of Gastroenterology and European Crohn's and Colitis Organisation.
References:
Walsh A, Matini L, Hinds C, Sexton V, Brain O, Keshav S, Geddes J, Goodwin G, Collins G, Travis S, Peters M. Real-time data monitoring for ulcerative colitis: patient perception and qualitative analysis. Intestinal Research 2019;17(3):365-374.
Julsgaard M, Hvas CL, Gearry RB, Gibson PR, Fallingborg J, Sparrow M, Bibby BM, Connell WR, Brown SJ, Kamm MA, Lawrance IC, Vestergaard T, Svdenningsen L, Baekdal M, Kammerlander H, Walsh A, Boysen T, Bamptom P, Radford-Smith G, Kjeldsen J, Andrews JM, Subramaniam K, Moore GT, Jensen NM, Connor SJ, Wildt B, Ellard K, Christensen LA, Bell SJ.  Anti-TNF therapy in pregnant women with inflammatory bowel disease: effects of therapeutic strategies on disease behaviour and birth outcomes. Inflamm Bowel Dis 2019.
Walsh A, Kormilitzin A, Hinds C, Sexton V, Brain O, Keshav S, Uhlig H, Geddes J, Goodwin G, Peters M, Collins G, Travis S. Defining faecal calprotectin thresholds as a surrogate for endoscopic and histologic disease activity in ulcerative colitis – a prospective analysis. Journal Crohn's and colitis 2018;13(4):424-430.
Probert F, Walsh A, Jagielowicz M, Yeo T, Claridge T, Simmons A, Travis S, Anthony DC. Plasma nuclear magnetic resonance metabolomics discriminates between high and low endoscopic activity and predicts progression in a prospective cohort of patients with ulcerative colitis. Journal Crohn's and colitis 2018;12(11)1326-1337.
Paramsothy S, Kamm m, Kaakoush N, Walsh AJ, Van Den Boegaerde J, Douglas S, Leong R, Connor R, Ng W, Paramsothy R, Xuan W, Lin E, Mitchell H, Borody T. Multidonor intensive faecal microbiota transplantation for active ulcerative colitis: a randomised placebo-controlled trial. Lancet 2017; 389:1218-1228.
Vuitton L, Peyrin-Biroulet L, Colombel JF, Pariente B, Pineton de Chambrun G, Walsh AJ, Panes J, Travis S, Mary JY, Marteau P. Defining endoscopic response and remission in ulcerative colitis clinical trials: an international consensus. Alimentary Pharmacology and Therapeutics 2017;45(6):801-813.
Walsh AJ, Bryant RV, Travis SPL. Current best practice in disease activity assessment in IBD. Nat Rev Gastroenterol Hepatol 2016;13(10):567-79.
Heap GA, Weedon MN, Bewshea CM, Singh A, Chen M, Satchwell JB, Vivian JP, So K, Dubois PC, Andrews JM, Annese V, Bamptom P, Barnardo M, Bell S, Cole A, Connor SJ, Creed T, Cummings F, D'Amato M, Daneshmend TK, Fedorak RN, Florin TH, Gaya DR, Greig E, Halfvarson J, Hart A,  Irving P, Jones G, Karban A, Lawrance I, Lee JC, Lees C, Lev-Tzion R, Lindsay JO, Mansfiled J, Mawdsley J, Mazhar Z, Parkes M, Parnell K, Orchard TR, Radford-Smith G, Rusdsell RK, Reffitt D, Satsangi J, Silverberg MS, Sturniolo GC, Tremelling M, Tsianos EV, van Heel DA, Walsh A, Watermeyer G, Weersma RK, Zeissig S, Rossjohn J, Holden AL; International Serious Adverse Events Consortium;IBD Pharmacogenetics Study Group. Ahmad T. HLA-DQA1-HLA-DRB1 variants confer susceptibility to pancreatitis induced by thiopurine immunosuppressants. Nat Genet 2014;46(10):1131-4.
Walsh AJ, Ghosh A, Brain AO, Buchel O, Burger D, Thomas S, White L, Collins GS, Keshav S, Travis SP. Comparing disease activity indices in ulcerative colitis. Journal Crohn's and colitis 2013;8(4):318-325.
Rahier JF, Ben-Horin S, Chowers Y, Conlon C, DeMunter P, D'Haens G,Domenech E, Eliakim R, Eser A, Frater J, Gassull M, Giladi M, Kaser A, Lémann M, Moreels T,  Moschen A, Pollok R, Reinisch W, Schunter M, Stange EF , Tilg H, Van Assche G, Viget N, Vucelic B, Walsh A, Weiss G, Yazdanpanah Y, Zabana Y, Travis SPL, Colombel JF on behalf of the European Crohn's and Colitis Organisation (ECCO). European evidence-based Consensus on the prevention, diagnosis and management of opportunistic infections in inflammatory bowel disease. Journal Crohn's and colitis 2009; 3(2):47-91.